Boston, MA – April 8, 2019 – Haystac Inc., a leader in content analytics software, today announced that HFS Research, a technology industry analyst and research firm, named Haystac as a 2019 HFS Hot Vendor for AI & Analytics Software. HFS Hot Vendors are an exclusive group of emerging players who have a differentiated value proposition for the Digital OneOffice™.
In the report, HFS said "Haystac was launched in 2014 with the sole purpose of helping you find the 'needles' in your messy data (hay)stack, by getting rid of the 'hay' and keeping your needles organized."
HFS defines the Digital OneOffice as the operations framework for the emerging organization that has fully embraced digital business models, enabled by an intelligent support capability, where barriers between front and back offices no longer exist. Everything about Digital OneOffice is wrapped around the needs of the people in its environment, where automation is completely native and decisions can be made by predicting events, not merely reacting to historical data archives.
Haystac was recognized along with other AI leaders such as Celonis, Automation Anywhere, Blue Prism, Pegasystems, and Oracle Labs. 
About Haystac
Headquartered in Boston, Massachusetts, Haystac created the Haystac Content Analytics Platform, an AI-driven cloud solution using innovative deep learning and data science methods to produce superior results. Our engine helps customers to solve information management, security, privacy, and governance challenges across multiple business use cases. For more information, visit us online at www.haystac.com.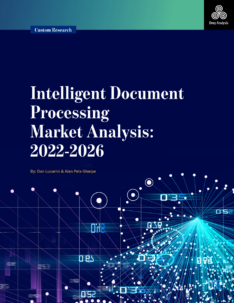 Boston, MA – December 15, 2022 – Haystac Inc., a leader in content analytics software, today announced that Deep Analysis, a technology industry research firm, has named Haystac as a One to Watch Innovator in its new report, Intelligent Document … Read More